'Get to Know Your Flow' Program
You start doubting yourself since you don't see your strengths anymore. What is the added value you bring?

You are not sure if your role or organization still is a good fit for you.

You feel others do not recognize and appreciate your contribution

You received feedback that you should (further) develop your People Management and/or Leadership Skills.

You feel you can contribute more but are held back.

You struggle with positioning yourself well within your team and/or organization

You know what you don't want but are not sure what you want.
If one of the above applies to you, then our Get to Know Your Flow Program will be valuable to you!
Heiske struggled with the above items as well.
Typically she was the youngest and only female in the Leadership Teams she was part of. There were times she felt her opinion and input valued less than the more seniors in the room. She thought she could contribute so much more but was held back.
She wanted to be seen as equal and started to do various Personal Development courses, Leadership Development Trainings, etc. These have given her more insights and tools, but it came to her in bits and pieces.
Heiske's experience is the reason why we have developed the' Get to Know your Flow' program. In this program we have combined and linked all the best practical tools together. And it works!
We have many clients who successfully went through the program. They know their additional value and are able to position themselves strongly.
The Get to Know Your Flow Journey
This program is a journey to find answers to the following questions:
What is your Native Genius?

What gives and drains your energy?

What is your personal Purpose?

How to position yourself to utilize your strengths optimally?
Having the answers to these questions will enable you to truly leverage your strengths, manage your energy, align your focus with your personal purpose and position yourself stronger as a person and (an informal) leader.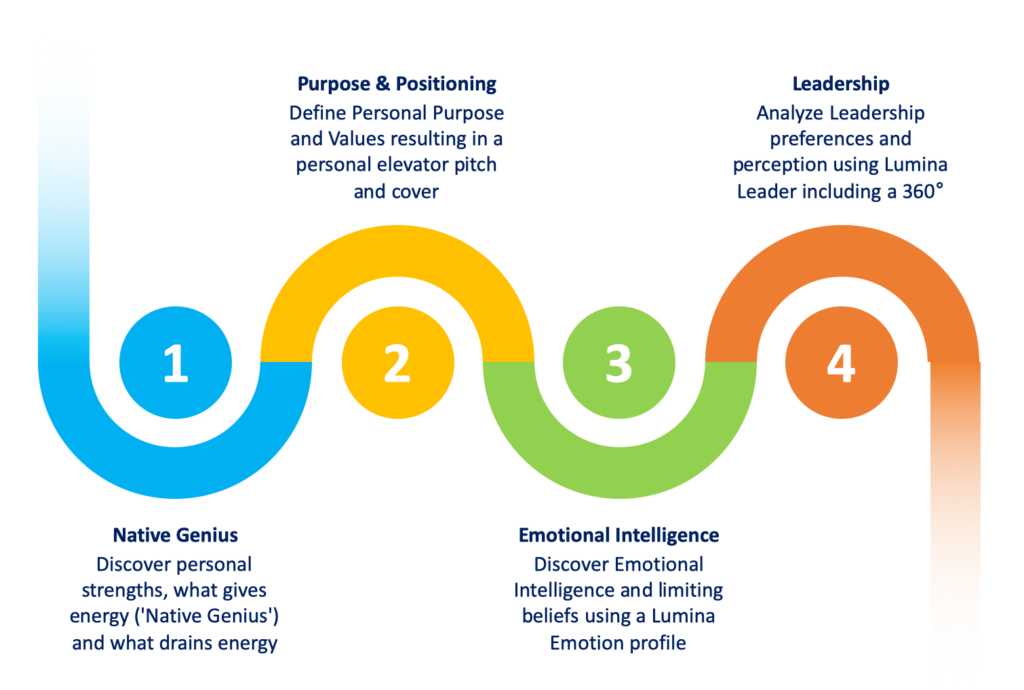 Experiences of our participants
'The program taught me to see and appreciate my qualities again and how to use them optimally'

'It increased my awareness and understanding of my inner voice'

'I became aware of my pitfall of pleasing others'

'I learnt that leadership is not only about letting others shine. You also have to show yourself! I blamed others for not seeing and recognizing me, but I realized I was selling myself short.'

'This journey increased insight in and recognition for myself'

'The gained insights and handed tools enabled me to better position myself'

'I can definitely recommend this journey to others! Especially if you get stuck, you are not able to put the finger on the sore spot and want to gain insight in what happens'

'Thanks to this journey I have a clear direction again!'

'Thanks to the gained insights I now speak up during meetings and share it when I need time to think things through before I am able to respond.'

'I became aware of my unconscious part that I did not know well'

'It has learnt me that I was not asking for help; I assumed it would be a burden to others to help me'
Wanna learn more about the program?
Follow our 'Get to Know Your Flow' webinar!
Heiske about the webinar:
At some point I did not receive a lot of responses and I thought: 'people start to disconnect'. I made a joke and asked 'Are you all asleep?' A couple of minutes later I received a note in the chat: 'We are not asleep, we are making notes like crazy!'
Feedback received about this webinar:
✅ 'Super fantasic'
✅ 'Really valuable'
✅ 'Made LOTS of notes'
Not sure if this program is valuable to you?
Are you not sure if this program will be valuable to you?
By answering our 28 statements you will get insight in your Talent Awareness and Work Fulfillment.
Only 2 minutes work and you might get great insights!
Session 1
In this session we will discover your personal strengths. A distinction will be made between what gives energy ('Native Genius') and what drains energy. As input to this conversation a personalized Lumina Spark profile is used.
Session 2
This  session focuses on defining a personal Purpose; what is the impact you want to make? To determine your Purpose the Ikigai method is used. In this module we also analyze your personal values. The module results in a personal elevator pitch and cover which enables you to position yourself properly and state crisp and clear what you can bring.
Session 3
Preferences in emotions that drive behavior, Emotional Intelligence and limiting beliefs are the topics in this session. This module will be based on a personalized Lumina Emotion profile.
Session 4
In this session we explore your preferences in Leadership Style. A Lumina Leader profile including a 360 (that will give insight in the perception of others) will be the basis for this module.
mrs. S. Prins, Founder of Downlinebuildersoftware.com:
'The price for the GTKYF Light is really a no-brainer!'
We have 3 approaches to choose from:
'Do it Yourself'. This program is completely online and can be done anytime.

'Do it With You'. In this program we do parts 1 to 1.

'Full Journey'. In this program we do everything together. 
Read more about their differences at the overview.
During the sessions we use scientific approaches as much as possible. We try to make relevant insights really concrete in such a way that you won't forget it easily. Fluffy conversations are avoided as much as possible.