What motivation is needed for rowing the ocean?
During the writing of our previous blog about motivation, we coincidently ran into Renate and Marieke. These two ladies won the Talisker Whiskey Atlantic Challenge in 2020 with their Atlantic duchesses team.
---
What is this challenge about?
To get a feel about the Talisker Whiskey Atlantic Challenge:
It is a 2550 nautical miles (5000 km!) crossing of the Atlantic Ocean from La Gomera to Antigua.
It is a rowing contest. So, no engines or sails are allowed.
The crossing was done by four women in a ~28 ft (~8 meter) boat.
Shifts of 2 hours rowing and 2 hours rest, day in, day out.
The crossing took the team 43 days on the ocean.
Renate and Marieke loved it so much, that they are going to take on the challenge again. Instead of crossing the Atlantic Ocean, they now aim to cross the Pacific Ocean. They want to row from San Francisco to Hawaii together. Fortunately this race is only 2400 nautical miles. 🙂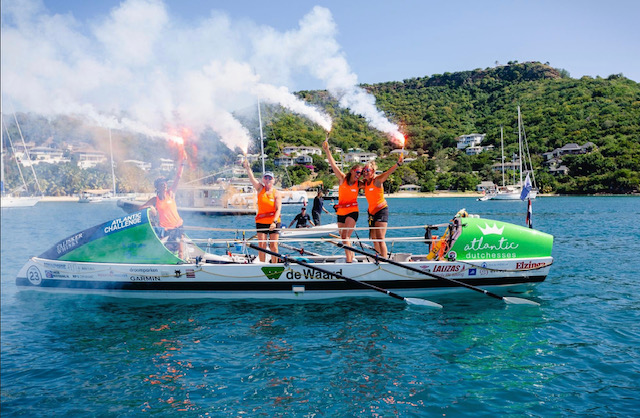 ---
What motivates them to take on these challenges?
In our previous blog about motivation, we wrote that fun, purpose and potential are things to increase motivation, while emotional pressure, economical pressure and inertia should be minimized as much as possible.
Let's see how this can be translated to Renate and Marieke.
Fun – The thing Renate and Marieke love doing the most is rowing. Renate: 'Being on the ocean felt like being home. I'd like to experience that again!'.
Purpose – Renate and Marieke row to increase awareness and raise money for research of the women's hearth. During their previous challenge they raised over 26,000 euro for research. Their rowing obviously matters!
Potential – With these kind of challenges you learn more about yourself: your mental and physical strengths and limitations. That was also something they like to explore.
The team wanted to achieve a certain goal. Marieke: 'I joined later and knew the team had already set the ambition to finish as the first women's team. I thought 'Ok, I can row, let's make this happen!". This can be seen as emotional pressure driving the team's motivation for the Talisker Whiskey Atlantic Challenge. Since this pressure is not caused by something external and directly related to the job to be done, this drives motivation in a positive way.
---
What can you do to increase their motivation to row the Pacific Ocean?
Renate and Marieke are going to row the Pacific Ocean in 2024. They have already bought a boat and started their required preparations. To increase the Purpose part of their motivation, they are looking for sponsors. Not only to enable their journey, but more importantly to raise money for the good cause. Research of the women's hearth!
Do you see an opportunity to help them with funding, transportation of their boat across the world or something else?
In return they are willing to change their boat into your company colors/logo and give some great presentations about their journey and related motivation in return!